Wildlife Lodge in Satpura
Denwa Backwater Escape, by Pugdundee Safaris
is an eco-luxury, wildlife resort in Satpura National Park. This idyllic getaway is nestled in the densely forested land of Madhai, along the backwaters of the meandering Denwa River. Built on 10 acres of lush forest cover; our eco-luxury wildlife resort offers stunning views of the Denwa River, the rolling Pachmarhi hills and rolling grasslands of Satpura.
Our forested estate is gifted with an undulating landscape, a versatile set of flora and fauna that includes in-house wildlife residents, water bodies and a robust set of cottages and tree houses with unhindered, expansive views. The Denwa Backwater Escape
is a quaint jungle eco-luxury resort that is single-use plastic free. Built in contemporary safari style design, the lodge uses local and sustainable material like stone, baked tiles, even recycled old furniture, including wooden railway sleepers.
The eight Cottages and two Tree house are done up in eclectically crafted, leather safari furniture, crisp cotton upholstery and linen. The walls and the rooms are adorned with local art and crafts, that also include wrought iron Bastar art. The cosy accommodation offers sprawling verandahs with scenic views of the forest cover and the winding Denwa river of Satpura National Park.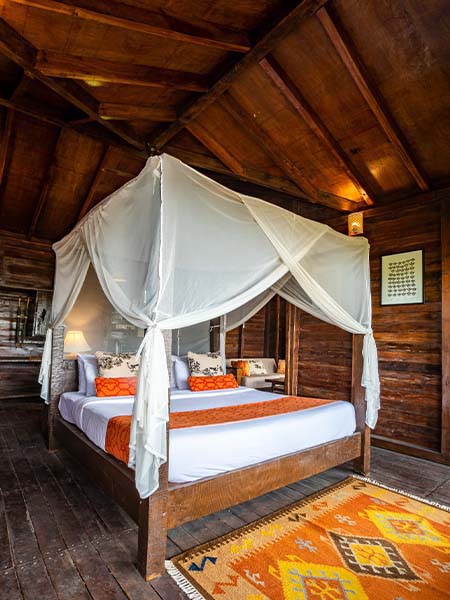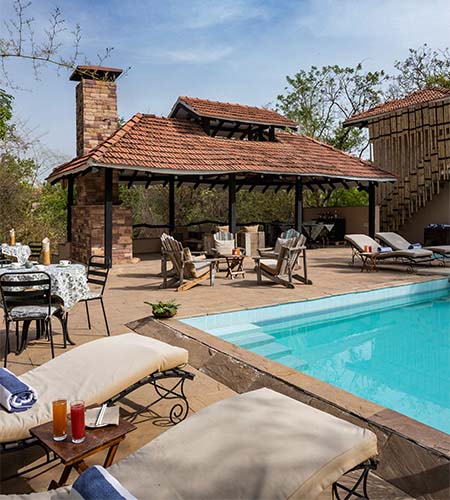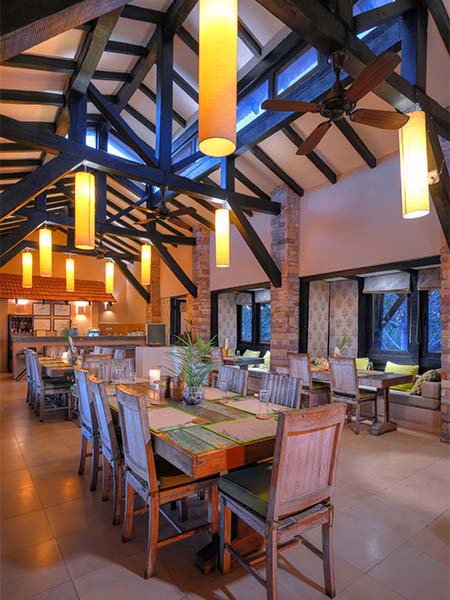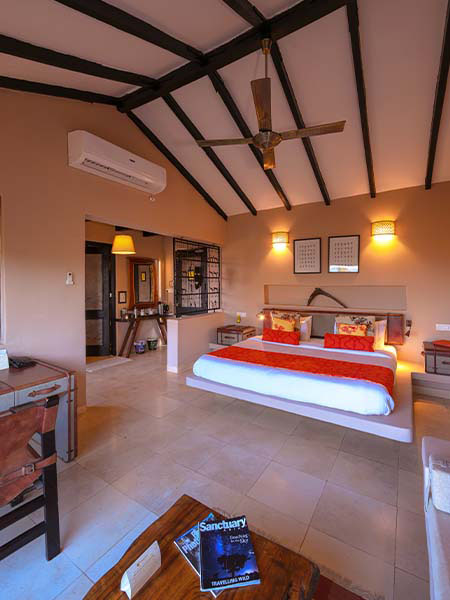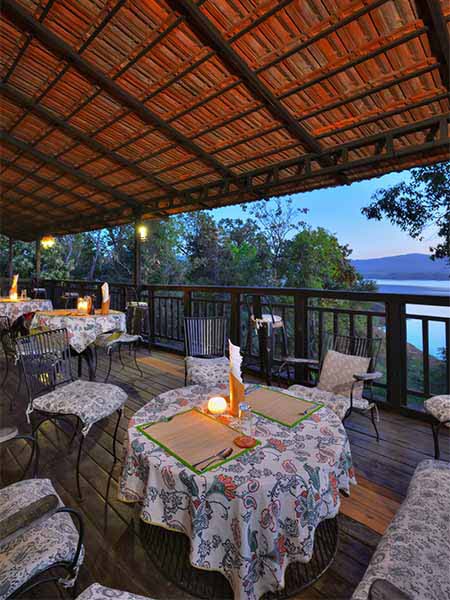 About Satpura National Park
Useful reading
Highlands of Central India – Capt J. Forsyth
Field guide to Indian Mammals – Vivek Menon
Birds of Indian subcontinent – Grimmett and Inskip
Situated in the lap of Central India; Satpura National Park, popularly known as Madhai, stands nestled in the Mahadeo hills of the Satpura range. Satpura is a Sanskrit word that translates to Seven Mountains (sat-seven, pura– mountain).
Spread over a sprawling 1427 sq. kms.; Satpura National Park was formed in 1981 with Satpura, Pachmari and Bori sanctuaries with an altitude ranging from 300 to 1,352 meters (980 to 4,436 feet).
The rugged terrain of Satpura National park is dotted with deep, yawning valleys and gorges, stunning sandstone peaks, gurgling rivulets and brooks, cascading waterfalls, dense forests of Sal and Teak, and an abundance of medicinal plants.
Satpura has a rich tapestry of flora and fauna.
Satpura National Park is a bird watcher's paradise. The water bodies attract a host of local and migratory birds, and over 300 species of birds are found in this bountiful landscape. Satpura hosts a variety of birds, including many migratory species from November to March. The hot spots for birding include the Tawa reservoir, the Denwa Backwaters, and the grasslands and fields of the Satpura National park.
Some of the thriving fauna of Satpura National Park includes Spotted Deer, Indian Bison (Gaur), Tigers, Leopards, Wild boars, Wild dogs (locally called Dholes), Sloth bears, Black Bucks, Porcupine, Sambhar, Four Horned antelopes (Chowsingha), Otters, Crocodiles, Malabar squirrels, Langurs, Honey badgers etc.
About 31 species of reptiles including a variety of snakes, Indian Chameleons and Turtles like the Soft-shelled Turtles, Marsh Crocodiles; home in the thriving forests of Satpura.
The Malabar Squirrel or the Indian Giant Squirrel, White Bison and Black bucks are some of the unique attractions of Satpura National Park.
Bespoke Experiences in Satpura
Satpura National Park offers an array of activities, that are diametrically different from other parks in Central India, thus making it an exceptional and a hands-on choice for the discerning traveller. The park management has developed a unique tourism model that enhances the wilderness experience further more.
Our guests can experience the joy of walking safaris, boat safaris, kayaking, bird watching, hikes and the traditional jeep safaris inside the tiger reserve. Know More The safaris inside the core area of the park is operated by the village society. Our lodge provides a trained naturalist who plays a key role in helping our guests understand the flora-fauna and the forest cover better.
At Pugdundee Safaris we encourage our guests to undertake a medley of various activities, so that they can return home armed with a memorable and multi-faceted wildlife experience.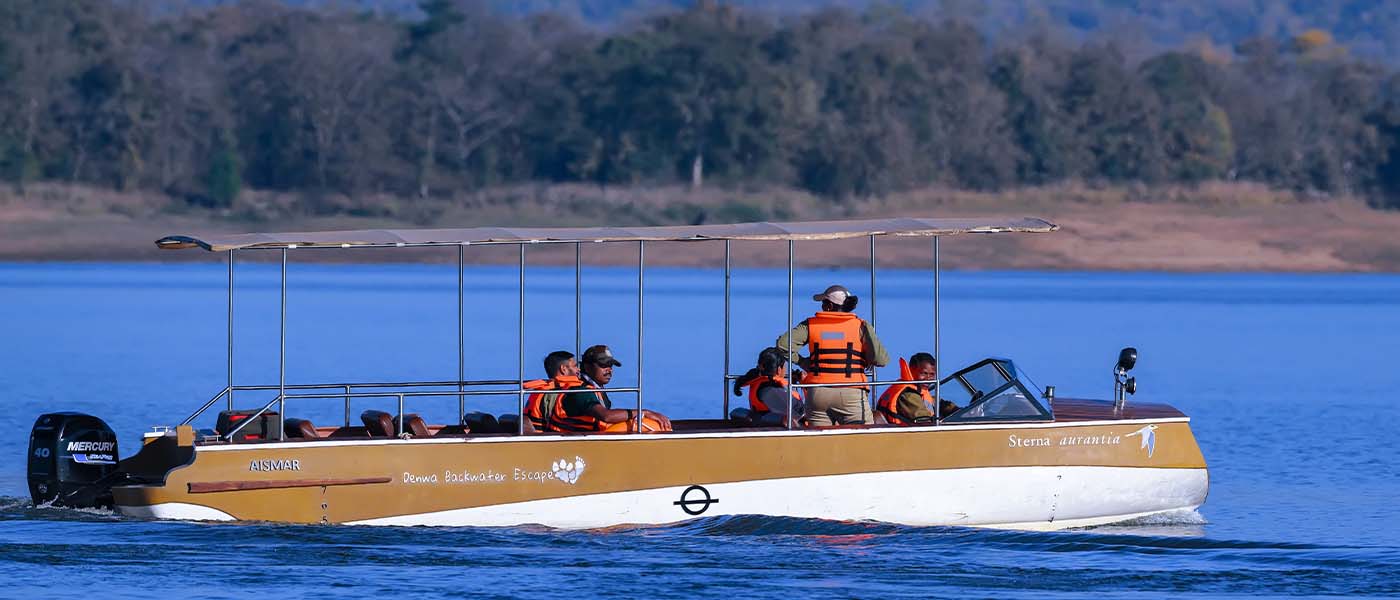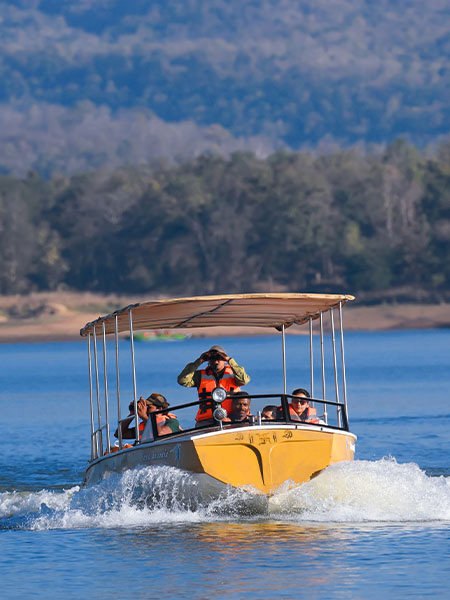 Our Sustainable Food Story
We offer our guests food that is fresh, locally sourced and sustainable.
We are a single-use-plastic free lodge and have done away with bottled water, tetra packs, sachets, plastic straws, and a lot more.
The food that you eat at Denwa and all our other lodges is sourced locally. And prepared in our scratch kitchens.
We do not used tinned or processed items at all. We blend our own fresh tomato purees, fresh juices, bake our bread, make ice tea from scratch using loose tea leaves, and grind coffee beans ourselves to ensure our guests are served clean, healthy, and fresh food options.
We believe in keeping the regional, authentic recipes alive - these are the recipes of the regions and communities we co-exist with, across our lodges. We believe the food that we serve must give you a unique taste of the flavours of the local culture, distinctive to Satpura.
The Kings Breakfast at Denwa: The breakfast spread is a mix of Indian and global favourites with fruits, fresh tea and coffee that go well with our freshly prepared bakery items.
We also serve a lavish breakfast on our safaris; be it on a boat safari or jeep safari.
Discover More
Uniquely Curated Experiences
Satpura is an exclusively unique park with much to offer, therefore it is best enjoyed with a medley of activities.
Our team delights in putting together special experiences for our guests, ensuring they have a wildlife experience that they will treasure. These experiences ensure you enjoy wildlife up-close and personal.
Sustainable Tourism
Our philosophy at Pugdundee is to conserve, protect and re-wild the forests around which our lodges are built.
We practice a strict policy of being single-use-plastic free. Therefore, our accommodations come equipped with jars of filtered drinking water, tea in biodegradable tea bags, freshly ground coffee in jars and freshly baked cookies from our scratch kitchen.
The bathrooms are equipped with soap, shampoo dispensers, bamboo toothbrushes and ear buds etc.
Our guests are gifted a steel bottle upon arrival and they can refill the bottle from our water filling station.
Our scratch kitchen uses zero preservatives, and minimal packaged goods. Our food is fresh, locally sourced within a radius of 50 kilometres and grown organically in the surrounding villages. We believe in keeping the essence of the regional flavours alive, therefore we love to pamper our guests with a plethora of local flavours.
70% of our staff is from the adjoining villages and areas, and many of them have risen to senior managerial positions. We believe in empowering and helping the local communities with a source of income that will support and enrich them and their families. This in turn also empowers them to protect wildlife and be responsible towards conservation, while cohabiting with the forests.
We continue to consistently re-wild and take steps to help the wildlife and flora flourish around us. Therefore, we share space with a wide-array of fauna in our forested estate at Denwa.
Meet our Team at Denwa backwater Escape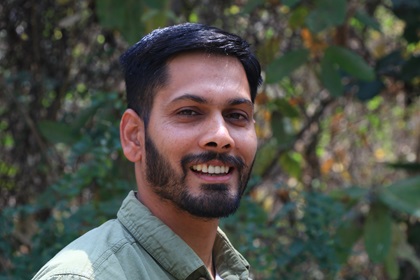 Kshitij Gambhir
Manager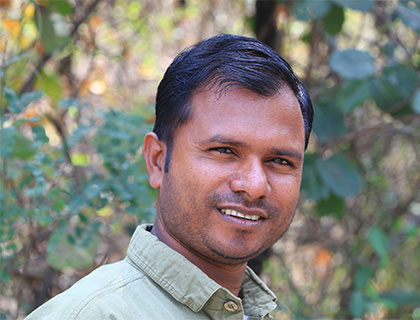 Harendra Dhodhre
Senior Naturalist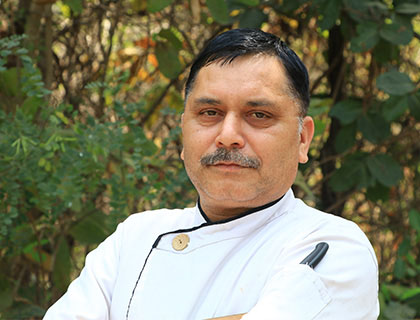 Balwant Giri
Chef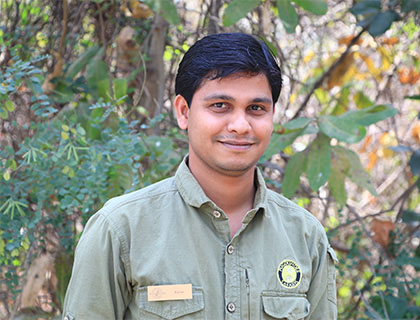 Karun Kumar Adey
Front Office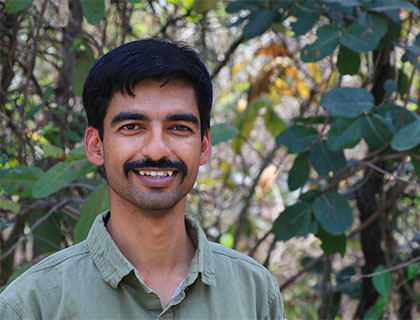 Vishnudeep Dixit
Naturalist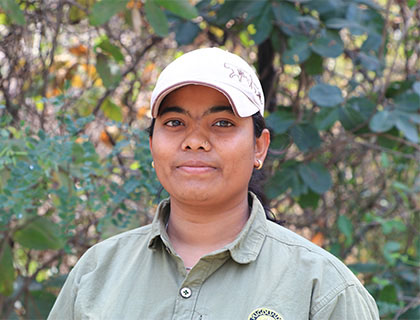 Neetu Uikey
Nature Guide