Wildlife Courses in India
Professional Naturalist Training - PRONAT
PRONAT is India's one-of-its-kind Professional Naturalist Training Program, conducted at Denwa Backwater Escape, in Satpura National Park.
Pugdundee Safaris in association with Wildlife Forestry Services (WFS) has been offering this intensive program since 2018, and over 90 students have graduated so far. This 21-night program conducted by experts in the field of wildlife and conservation; focuses to elevate passionate wildlife enthusiasts into professional naturalists. There is an additional 3 nights' extension available for guiding techniques. With the completion of this program the participants will be equipped to be inducted as trainee, or lodge naturalists in wildlife based tourism sector. They can even start leading nature-based tours, or simply learn how to appreciate nature from a wider lens.
Many of the participants are also recruited within our lodges at Pugdundee Safaris as naturalists.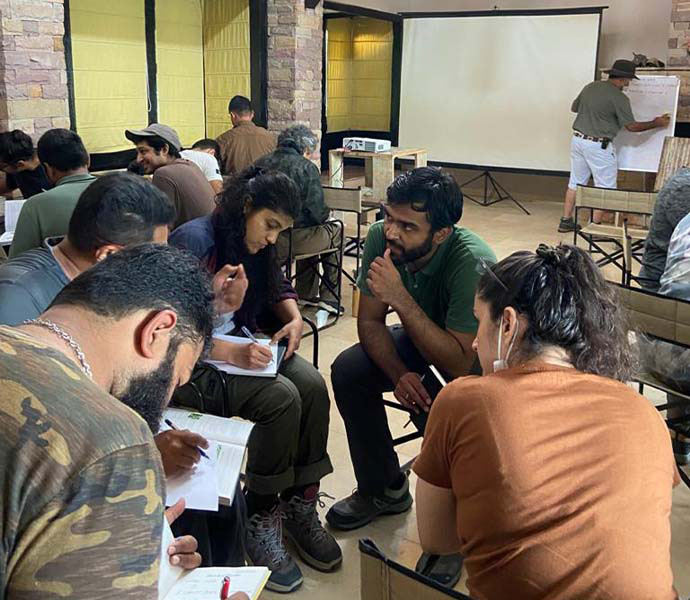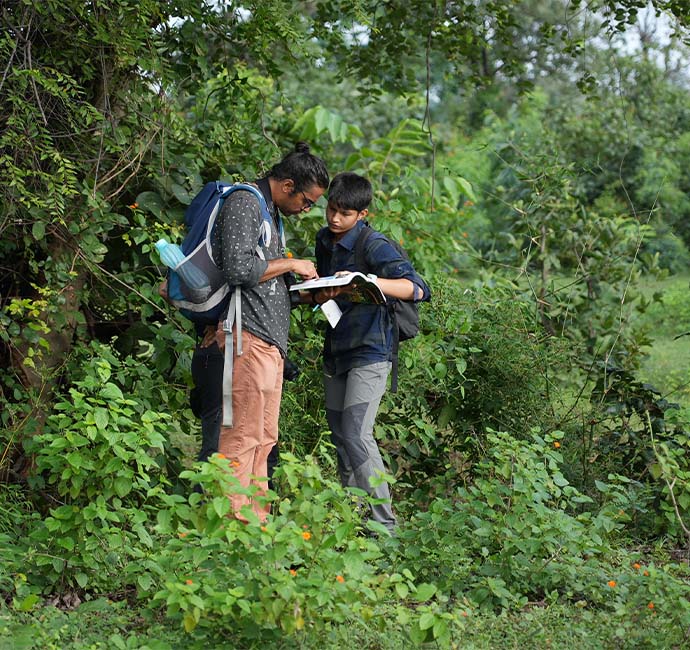 Amateur Naturalist Training - ANAT
The 5-day ANAT course has been curated for wildlife and nature enthusiast who wish to learn and appreciate nature, regardless of their educational background. For people who have a keen interest in nature and wish to expand their learnings, Wildlife and Forestry Services in association with Pugdundee Safaris has curated ANAT.
As experienced lodge operators and wildlife professionals, we realise that the forest is an observatory for passionate nature lovers; and this course serves as an ideal opportunity learn about the various facets of nature.
ANAT is highly relevant in today's times, where it is essential for more and more people to have a deeper sense of understanding, connection, and commitment to this planet, so that they can contribute towards a healed and restored planet.
This residential course is conducted at Denwa Backwater Escape.
Young Naturalist Training - YNAT
YNAT is yet another initiative from Learn with Pugdundee and is intended to introduce children to nature, thereby helping build a foundation for further learning and life-long appreciation, and ownership of our planet.
This program is offered complimentary* to children between 9 – 16 years and is conducted throughout the year, while the parents are on a wildlife holiday with us.
*The only criteria to be able to participate in this program includes:
Parents and the participating child have to book a minimum 4-night wildlife holiday with us, at one of our lodges offering YNAT.

Minimum 4 safaris/experiences to be booked with naturalists during this period.

The child can choose 4 of the modules from the 6 modules that are offered.
They are given a field experience coupled with a classroom session, to build their understanding of flora and fauna.
Children attending the course return to their urban life and start seeing the natural world through a fresh perspective, having developed a whole new connection with nature. The scales start tipping towards a life-long passion and appreciation for nature. And as we all know that children exposed to nature, grow up to love and look after it.
This is currently available at Bandhavgarh, Satpura, Pench, Kanha, and Tadoba.