Best Food in Satpura
We offer our guests food that is fresh, locally sourced and sustainable. We are a single-use-plastic free lodge and have done away with bottled water, tetra packs, sachets, plastic straws, and a lot more. The food that you eat at Denwa and all our other lodges is sourced locally. And prepared in our scratch kitchens.
The food that you eat at Denwa and all our other lodges is sourced locally. And prepared in our scratch kitchens (where everything is prepared from scratch).
We blend our own fresh tomato purees, and fresh juices, bake our bread, make ice tea from scratch using loose tea leaves, and grind coffee beans ourselves to ensure our guests are served clean, healthy, and fresh food options.
We believe in keeping the regional, authentic recipes alive - these are the recipes of the regions and communities we co-exist with, across our lodges. We believe the food that we serve must give you a unique taste of the flavours of the local culture, distinctive to Satpura.
The Kings Breakfast at Denwa: The breakfast spread is a mix of Indian and global favourites with fruits, fresh tea, and coffee that go well with our freshly prepared bakery items. We also serve a lavish breakfast on our safaris; be it on a boat safari or jeep safari.

The Regional Flavours of Lunch
At Denwa Backwater Escape we serve thalis for lunch and these include the local Madhai Adivasi Thali, Malwa Thali, and the unique Purani Dilli Thali.
Our popular Madhai Adivasi Thali is inspired by the tribal food from the adjoining region of Madhai. Madhai is the name of the village which was relocated to preserve the forests, and now the current park gate opens through Madhai.
The Madhai Thali is served with food items prepared using the local trees and their produce, berries, and popular chokha of vegetables partially cooked and smoked on an open fire, before being finally cooked.
A typical Madhai Thali may include some of these and more :
Paneer or fresh catch of the day fish from the backwaters; smoked in Mahua or Palash leaves. A Kadam Chutney (Kadam fruit side accompaniment dip), Daal cooked Madhai tribal style, rotis or bread like our famous Tikkad roti or Millet roti followed by a sweet accompaniment of Anjir/Fig Ice-cream, freshly prepared in the kitchen.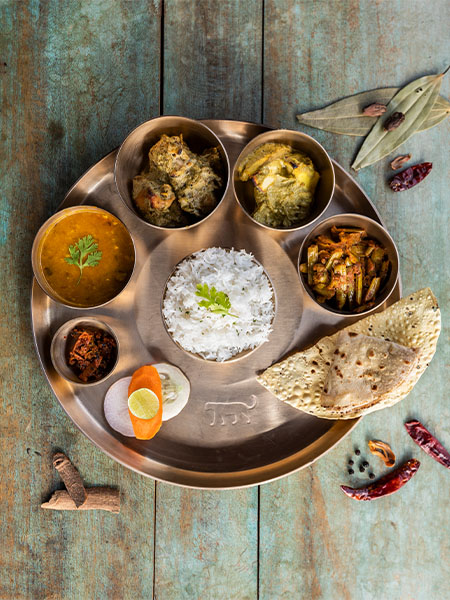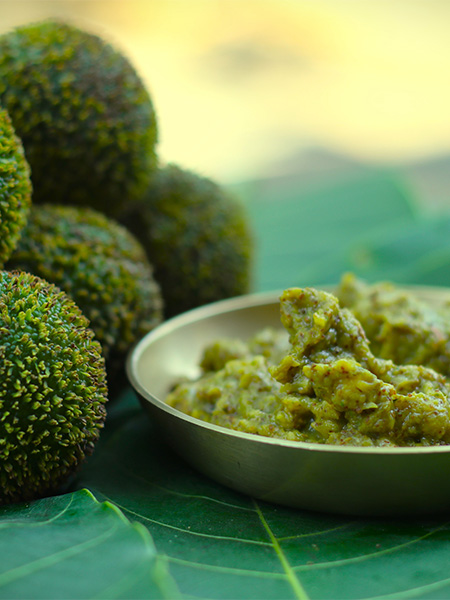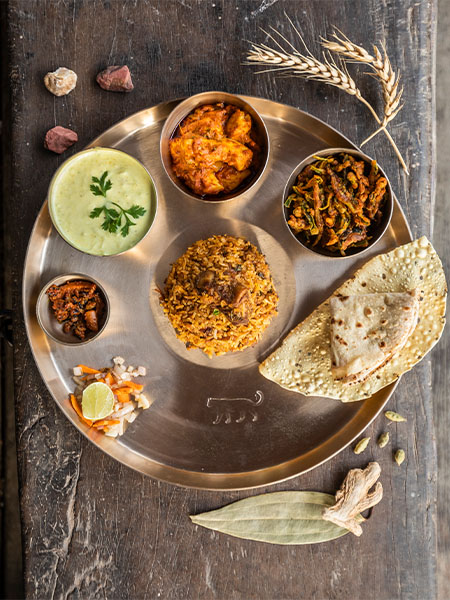 Malwa thali is inspired by the food of the Malwa region, and also derives inspiration from the streets of Indore, including the popular snacks and street foods that are served there.
The thali may have some of the following items and more: Mung badi chaat, a favourite street food.
Inderahar kadi, a gravy dish that is considered a favourite and also offered to lord Inder as a prayer offering.
The other accompaniments include Kadam pickle, Daal-Baati-Gud Churma, smoked potatoes, and a specially cooked local chicken or lamb dish, followed by a Paan ice cream.
Purani Dilli Thali draws inspiration from the flavours of Old Delhi, especially areas like Chandni Chowk and Jama Masjid. It has a few items inspired by the Mughlai cuisine of Jama Masjid, including Mutton stew and Burani Raita. It is also flavourfully inspired by the Marwari cuisine of Old Delhi with items like Dahi Bhalla with tamarind sauce, Hing Aloo, Rabdi to satiate your sweet tooth, Rabdi.
Our lunches are lovingly served in hand-crafted Kansa Thalis and are sure to tickle your taste buds.
Laid-back Dinners
At Denwa we serve you a laid-back supper that allows you the option to choose the specials for the evening offered by our chef. What's more, we have a tempting kids' menu to boot, as well. Mains for dinner include Indian and global favourites.
Dinner is served in hand-made pottery exclusively crafted for Denwa Backwater Escape.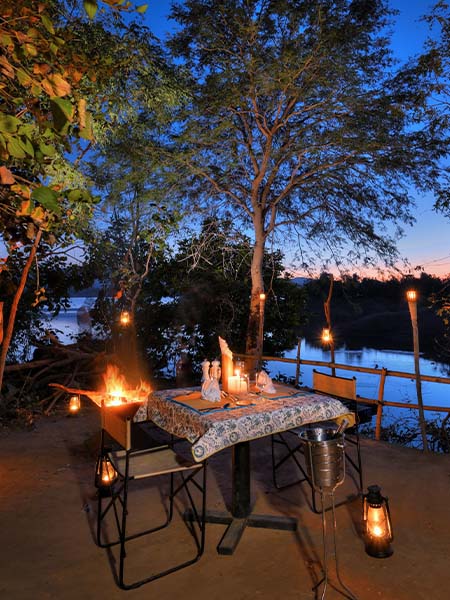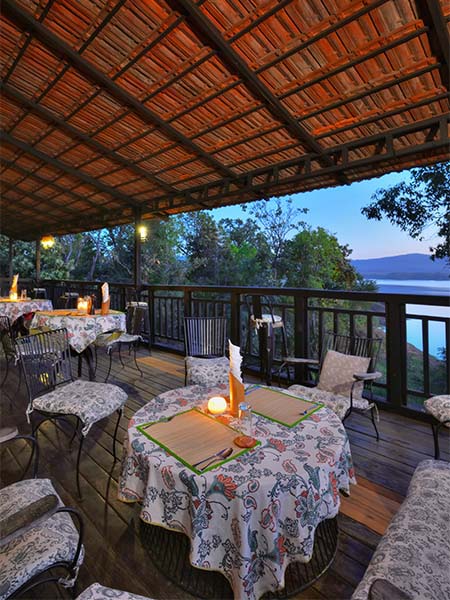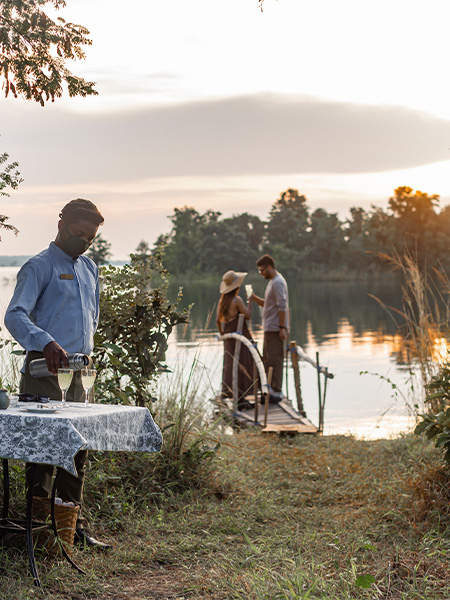 Bar
We also have a well-stocked bar at Denwa, that offers our guests the unique flavours of a Mahua cocktail, including a wide variety of drinks to choose from.