About Denwa Backwater Escape
Denwa Backwater Escape is located overlooking the mesmerizing backwaters of a dam built on Denwa River in Satpura National Park, the area is popularly known as Madhai.It is built on 10 acres of forested land along the river and across the river lies the national park which is approached by a boat and then by jeeps to go deeper into the forest. The lodge offers stunning views of the Denwa River, grasslands and rolling Pachmari hills.

Satpura Tiger Reserve is spread over 1427 sq km and was formed in 1981 after joining Satpura, Pachmari and Bori sanctuaries and the altitude ranges from 300 to 1,352 metres (980 to 4,436 ft). The park is known for a variety of animals and birds including the Tiger, Leopard, Sloth Bear, Crocodiles and over 300 species of birds.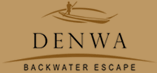 INTERESTED IN A WILDLIFE SAFARI !
QUICK QUOTE
Offers & Packages

Unique Walking and Camping
experience in Satpura Tiger Reserve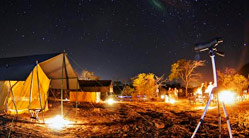 Click here for more details

Special Wildife Tours & Combo Packages


Click here for more details